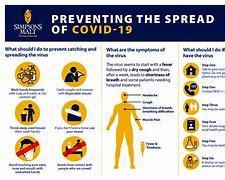 BGMS Safety Protocols & Procedures
Tiffany Klee
Monday, August 24, 2020
Willits Unified School District Baechtel Grove Middle School
Health and Safety Procedures and Protocols
As we begin the school year in distance learning for the 2020/2021 school year, to ensure the health and safety of our staff, the work environment, practices and standard operating procedures have been modified. BGMS administration is committed to developing protocols and procedures that reflect current public health guidance on how to stop the spread of COVID-19.
These procedures are also in keeping with the direction from the district office, and as we implement, some may need to be adjusted.
The most important procedures:
All staff will be expected to follow Public Health Guidelines for physical distancing, face covering and hygiene, plus additional measures as noted below:
Perform a daily self-check before you come to work, including taking your temperature. Fill out the Google form, or QR code every day, only when you are going to come on campus https://fors.gle/YyCG8U6w2JxbWBKk9.

Do not come to work if you are feeling any symptoms of illness, no matter how mild.

Practice required physical distancing (6' or more) from all staff and students.

There is no need for staff to check in at the office.

Wear a face covering while inside or outside of the building, except when working alone in a private office or classroom (a current medical or behavioral exclusion in writing is required if there is a reason why anyone can not wear a mask). Children of staff must also wear a mask unless they are two years old, or younger. Children are to be under the direct supervision of their parent/guardian at all times and are to practice social distancing and hygiene rules. Face coverings are to meet the guidance of the CDC recommendations, https://www.cdc.gov/coronavirus/2019-ncov/prevent-getting-sick/cloth-face-cover-guidance.html

Practice regular hand washing - 20 seconds - when entering the building, regularly throughout the day, and before exiting. When hand washing is impractical, use hand sanitizer with 90% ethyl alcohol.

Utilize Health and Safety materials provided in your work space; hand sanitizer, wipes, and disinfectant spray, as you need to.

Maintain clutter free surfaces and workstations for efficient and regular cleaning and disinfecting
Entrances Although our campus is technically closed, Pam will have to attend to any public that might come to school. There is a desk inside the front office door with a notebook and sanitized pens, and used pens where they must sing in, or use the QR code to self screen..Please follow the directional arrows as you come into the office. One way traffic while maintaining a physical distance of six feet apart is our goal. Teachers are expected to work from their classrooms, not in the office area or staff room. Only office staff should be in the office area. The exception being any outside essential workers providing necessary services that are pre-scheduled (i.e., copy machine technicians, plumbers, etc.).
Only the office bathrooms are open for staff, and the bathrooms by room 14 are open for children, including children of staff.
In-person meetings
We are minimizing in-person meetings as much as possible. We are offering virtual meetings as an alternative. We have transitioned to conducting regular meetings remotely.
If it is necessary to meet someone in person at the school site, please arrange the time and date of the meeting and let the front office know. As weather permits, all meetings are to be conducted outside, or in rooms that allow for significant distancing, and open windows. Meetings should be as limited in time as necessary to complete the agenda. Social distancing and facial coverings are required by all participants. sharing of pens, pencils and paper documents is to be avoided as much as possible. Parents are encouraged to leave children at home, unless the student's participation in the meeting is essential.
Non-employees, including essential workers who have not been screened by their employer, who enter the site will need to fill out the BGMS Check in form and have their temperature taken, before the meeting and let the front office know. Those businesses who clear their own staff for work prior to their workday will provide documentation to such. When a non-employee comes on site, they will call ahead and the area they are going to work in will be closed to all other staff for the time they are here, except for a brief period for providing information to administrators.
Custodians
Custodial staff will be disinfecting touch spots during the day. They will disinfect rooms being used by the teacher daily. They will not clean or disinfect those that are not being used by the teacher. Linda will be here from 6:00 am to 2:30 pm, and Aldo will be here from 8:00 am to 4:30 pm. Custodians will see which rooms were used that day, on the sign in form. If you need the help of a custodian, please notify the office.
Restrooms:
Only the office bathrooms are open for staff, and the bathrooms by room 14 are open for children, including staff children.

Everyone should take responsibility for using a toilet seat cover, cleaning and sanitizing any other areas you touched after each use, including wiping down handles and knobs, and sink area after washing hands (wipes will be available).
Staff Room:
Only four people are allowed in the staff room at a time, including the 1 person at the copy machine. Please practice social distancing in the staff room and do not congregate in the staff room. Because you may not be stationary in the staff room, and unless you are stationary, expect to spend no more than 10 minutes in the room.
Staff members can eat at the tables with social distancing.

Most importantly everyone should take responsibility for cleaning and sanitizing any areas you touched after each use, including wiping down handles and knobs, microwave touch buttons, sink area after washing hands (wipes will be available), etc…
Signage:
The following signage will be posted around the campus:
Dots to guide social distancing

Reminders to wash hands, and wear masks

Arrows to direct pedestrian traffic
Digital Communications and Electronic Signatures
Everyone will be asked to continue processing as much as we can without passing paper around.

This has been one of the most significant breakthroughs in our standard operating procedures and we want to build on it.
Allergies, Self-Monitoring, Compassion and Support
We know that many of us experience seasonal allergies that can cause sneezing, coughing, runny nose, etc. We also know that in the not too distant past co-workers may not have particularly noticed when a colleague sneezed or coughed, and now we are all on heightened alert. We need to take care of one another, and trust that each of us will take responsibility to self monitor and stay home if we are feeling sick. If you develop symptoms during your shift that are unusual and are not related to seasonal allergies, you should go home, after notifying the office. If you work in an area of the office where a coworker is experiencing seasonal allergies, please be compassionate and supportive.
Response to Symptoms, Potential Exposure, or Confirmed Positive COVID-19 Test
In the event that a staff member exhibits symptoms, has potential exposure, or has tested positive for COVID-19 the administration expects the employee to report that to their supervisor. WUSD will work with Public Health to implement all necessary communication and follow up to support contact tracing and health and safety of staff. Anyone may call Mendocino County Public Health COVID hotline if a suspected exposure has occurred at 707-234-6052.
Key Documents and Resources